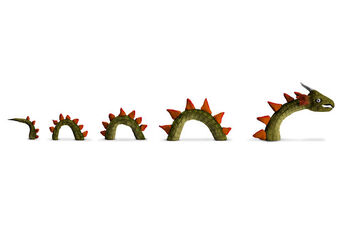 The Igopogo is a legendary lake monster that is said to inhabit Lake Simcoe, Ontario, Canada. It has also been called "Kempenfelt Kelly" for the bay that extends from the lake into the city of Barrie, Ontario.
The Igopogo legend describes the creature as having a canine-like head. And may be related to the Irish crocodile, which is known as the Dobhar-chu. It is described mainly as being a small sea creature only about 12 feet long. But some descriptions report it up to 70 feet in length and resembling a snake. It has also been observed on land for long periods of time.
A picture was published in the Barrie Examiner 1976 of the creature. Also, an alleged video was taken of the creature in 1991, but the video has not been released to the public as of yet.
According to the videographer, a friend was preparing for a hydroplane race, and the machine broke down. While he was working on it, Igopogo rose from the water in front of him. The creature then sank back into the water, pausing for a moment, still looking at the hydroplane driver.