Obi-Wan Finale - The Loop
Play Sound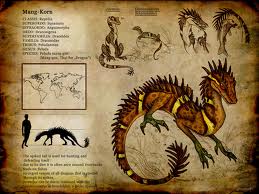 The Peluda, Shaggy Beast or La Velue is a supposed dragon or mythical beast that terrorized La Ferté-Bernard, France, in medieval times. It is said to have come from and lived near the Huisne river near the town. Despite the French origins, its more recognized name is Occitan —or any latine origin— for "hairy". Depending on the account, it had either an ox-sized porcupine-like body or a mess of green hair-like projections hanging from its body that were actually stinger-tipped tentacles which could erect into quills. Its name is derived from this shaggy appearance. Consistently, it was said to have these poisonous stingers that it could also shoot off its body, a snake's scaly neck, head, and tail, large, tortoise-like feet, and a green color.
The lore proposed that the beast was denied access to Noah's Ark, yet survived the biblical flood by seeking refuge in a cave near theHuisne River. After many years, it returned to rampage across the countryside, wilting crops with its breath and devouring both livestock and humans. It was finally defeated after it killed a man's fiancée. He tracked it down and cut off its tail. This was the only vulnerable point on the beast, and it died immediately.
The Peluda was said to be capable of the following feats, which vary between tales:
Searing breath that could wither crops.
Firing off its quills like arrows.
Invulnerability except for its tail.
Creating floods by stepping into rivers.
A single strike from its tail was lethal to a full grown man.
Breathing out fire as a typical dragon.
Spitting out a powerful stream of water or acid.